What is the best Reverse crossbow for the Money?
This can be a difficult question to answer as there are many different opinions. What I am looking for in a crossbow you may not be looking for and so on. So I will do my best to present what I think is the best reverse crossbow for your money…and Mine!


What is a reverse crossbow and Why would I want one?
Let's begin by answering this question first! A reverse crossbow is a crossbow with the limbs in the reverse position. The cams, instead of being at the middle of the body of the crossbow, the cams are at the front. The limb weight is now shifted and the string contact with the arrow is changed.
The benefits to using a reverse crossbow are increased arrow speed, power, and less fatigue. So let me break this down. I have a Barnett crossbow and from my experience using it, the weight is definitely in the front end of the bow. So you can imagine sitting in a tree stand or hiding and not having something to lean on to steady your arm. The weight of the crossbow makes your arm tired…at least my arm gets tired. So the reverse crossbow places the weight further back to the stock of the bow. It makes it easier to hold the crossbow steady for longer, especially when the timing is crucial for the kill shot. It makes the crossbow less wobbly and steady your shot increasing your odds of hitting your target.
The second thing I realized is that the arrow stays in contact with the arrow longer. The string is pushing the arrow along the rail for a longer time period which will increase the speed and power of the arrow. This means the arrow can go further and impact your target or game harder.
The last obvious benefit to a reverse crossbow is the size!  The reverse crossbows tend to be narrow or skinnier if you will. This makes for easier maneuvering when making your way thru the woods.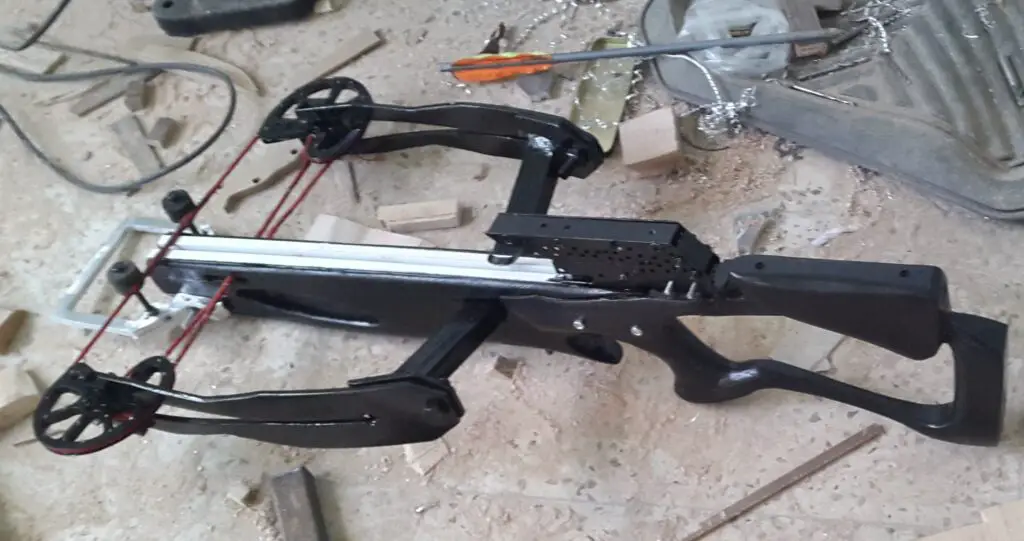 The drawbacks are few and not really worth digging into here. But most of the time it's just that there are not many accessories for them.
So let's answer the original question as to which one is the best for my money?
1. Barnett BC Raptor Reverse Draw Crossbow Package, Camo sold on amazon and as with all the crossbows listed, you get $70 off with the use of an amazon visa.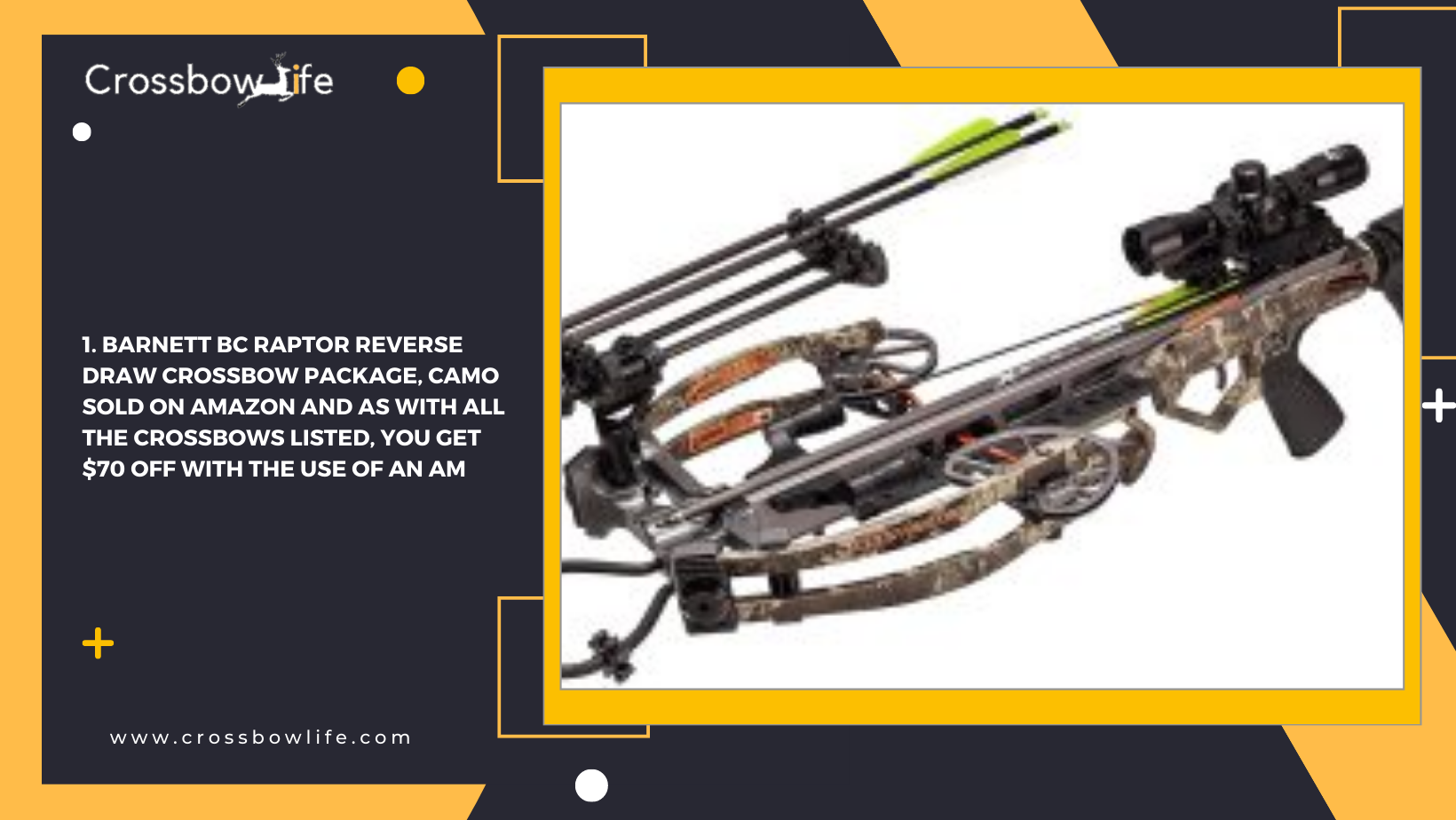 Features:
Premium Illuminated Scope.
Rope Cocking Device.
Premium 3-Arrow Quiver.
(3) 20″ Headhunter Arrows
Originally $749.00…if you use the amazon visa it will cost about $483 and if you don't use the visa it's about $580. It comes with a premium scope, a basic cocking device and arrows with a quiver. At a draw weight of 150lbs and 330fps, this reverse crossbow appears to satisfy my basic needs, and it is more than capable of getting the job done. The price point is average and affordable. All I really need is a sling and case which I can buy later. This has everything I need to get started. It seems while researching it received a ton of good reviews and I go for the average. A few bad reviews here and there is not a deal-breaker for me.
2. Horton Crossbow Innovations Vortec RDX Crossbow Package with Dedd Sled 50, Mossy Oak Country Camo, One Size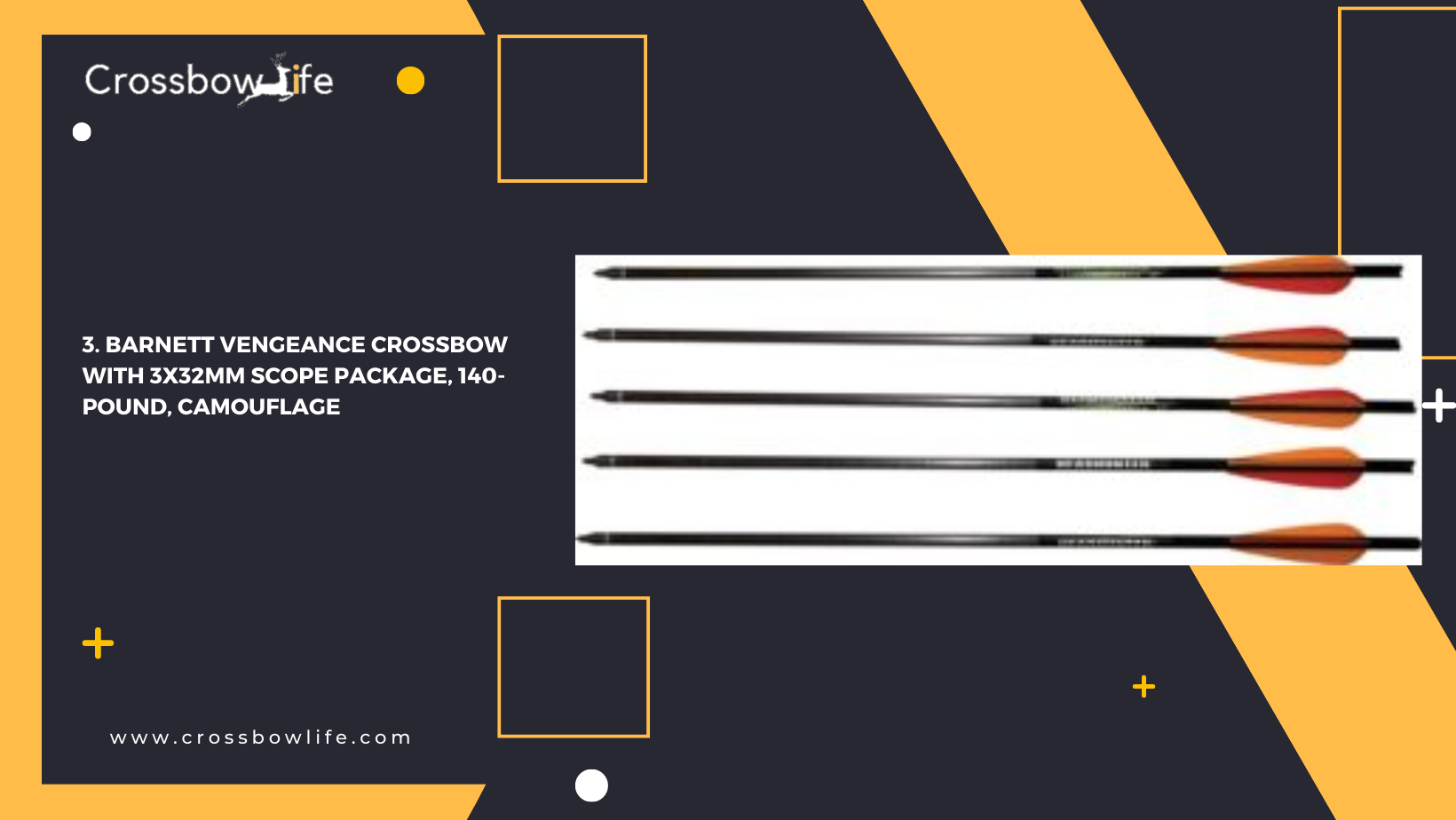 Features:
340 FPS/103 foot pounds
135 lb draw weight
7.6 pounds (without accessories)
Only 9.125 inch when Cocked
Includes external deed Sled 50 cocking System
This crossbow has a good price point at $799.00 and is pretty powerful with some nice accessories. It comes with 3 arrows and a scope. A quiver for the arrows to rest while carrying the bow.
3. Barnett Vengeance Crossbow with 3x32mm Scope Package, 140-Pound, Camouflage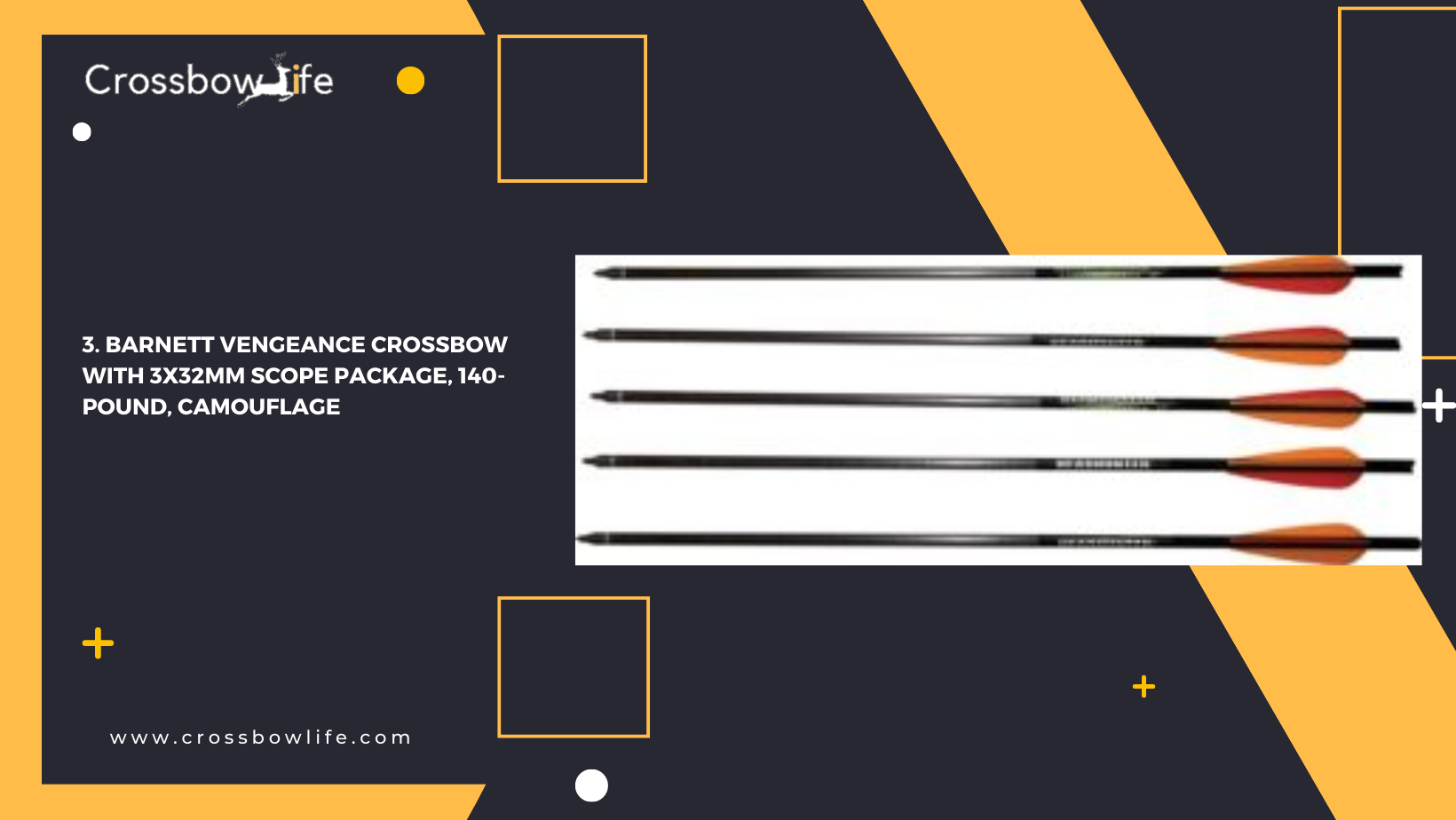 Features:
360fps
140lb draw weight
43% drop in riser weight
At a price point of $897, this again is a decent price and comes with a cocker, arrows, and quiver. So again you need a sling perhaps and a case. neither one of those will hinder you from a hunt.
What makes these a bargain for my money? They are not overly expensive and I can go right out to the woods and hunt. The accuracy out of the box seems terrific and they all have the ability to bring down any game you can hunt. Now like I said earlier, it's an opinion and these are just my opinions. I have seen Hortons which were higher in price, but I cannot justify the need to pay such a high price for a reverse crossbow when I can get a comparable one $400 cheaper.
I personally don't think you will regret any of the decisions above and if you have more money to spend, then check out some of the other packages on Amazon.
Remember that the only thing I would buy in addition to one of the above
reverse crossbows is a decoking device
or target. Once your crossbow is loaded, you need to release the arrow and you cannot shoot a crossbow dry without risking breaking or damaging it.  Sometimes they will give you lube and wax also so ask. It never hurts.
The list above is not exhaustive but please let me know your thoughts! I'll be honest…my idea of a bargain is what can I get and do at the cheapest price point. So if you have other thoughts that may help others in their decision…let me know.
Related Links:
https://en.wikipedia.org/wiki/Crossbow /By Wikipedia
https://en.wikipedia.org/wiki/Hunting /By Wikipedia
https://en.wikipedia.org/wiki/Match_crossbow /By Wikipedia
https://en.wikipedia.org/wiki/Repeating_crossbow /By Wikipedia
https://www.wikihow.com/Make-a-Crossbow /By Wikihow
https://www.wikihow.com/String-a-Crossbow /By Wikihow
https://www.wikihow.com/Shoot-an-Arrow /By Wikihow