A tree stand, a piece of equipment, or an additional accessory that every hunter wants to use. It is obvious that if you hunt deer or any other animal with the help of a tree hunting stand. The chances to target the animal dramatically enhance. It is the most important requirement of every crossbow, bow, or gun hunter.
But which type of stand is suitable to complete your adventure? This is probably the question whose answer almost every hunter wants. The costs and capability to hold the weight of a human is another important side that you must know. If you are looking for a such article that gives you the complete details of tree stands then this article is truly made for you.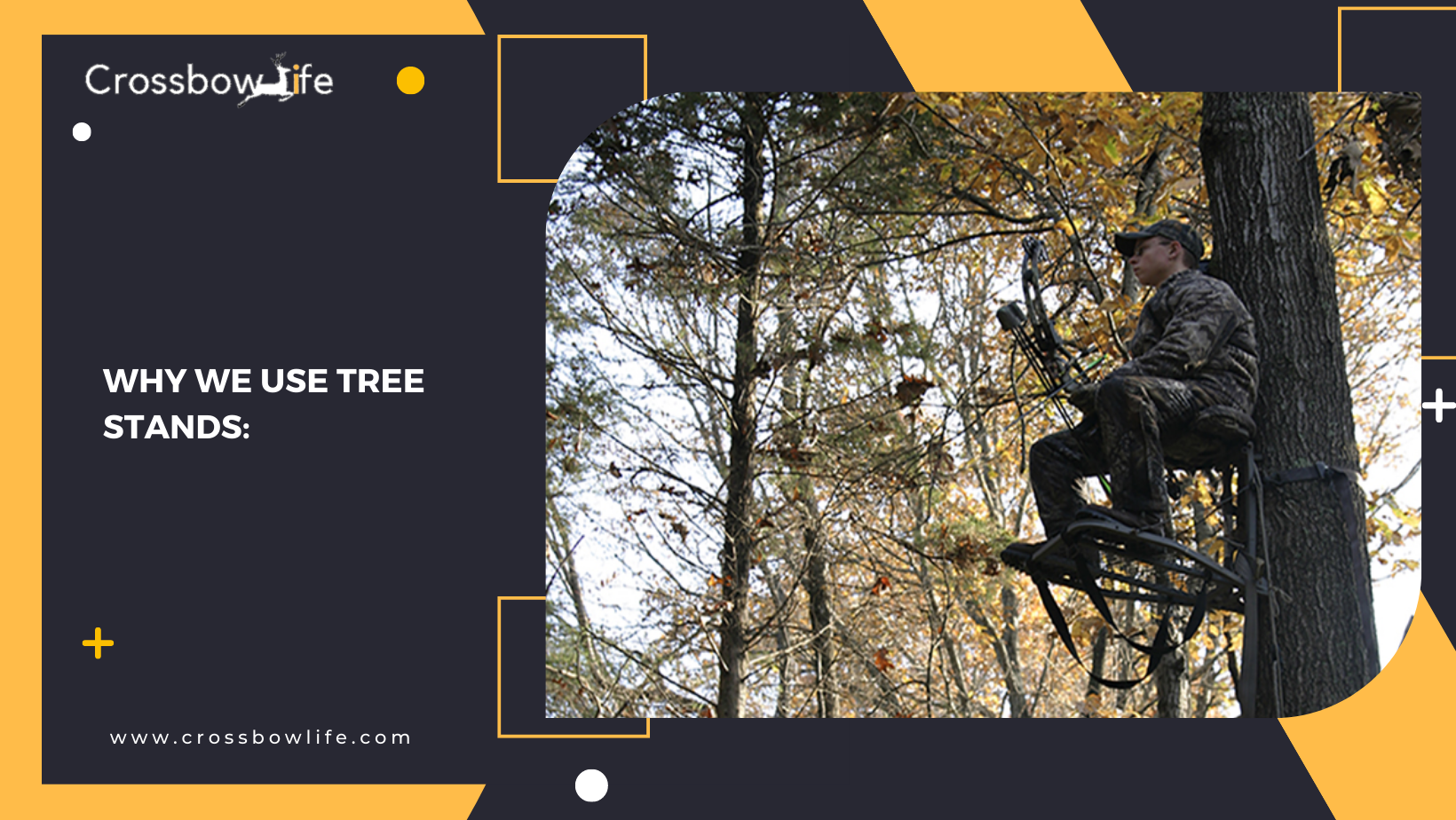 To make a wise purchase, first of all, you need to know that all tree stands are not that efficient or that every tree stand is specifically made for a particular category of hunting that may be crossbow hunting, bow hunting, or shooting hunting. To buy an effective hunting stand you should know the basic category of your hunting. Hunting with a tree stand boosts up your hunting. It dramatically decreases the chances to catch your presence by deer. Moreover, it is hard for the deer to see your presence despite smelling your scent. Moreover, the sight becomes clear as you are hunting from the upward direction. The chances to hit any wrong person decreases incredibly.
The construction of commercially made tree stands includes steel or welded aluminum. Though there is a difference between both as steel tree stands are stronger meanwhile aluminum stands are lighter in weight. Depending upon the material uses in the construction of tree stands the weight varies from category to category or stands to stand. The weight also tells how much weight a human it can bear. Normally, the stand is constructed of 250 to 500 pounds which are usually mentioned in the description of the hunting stand.
If you are keen to know the convenience or comfortable in this regard, it must be capable to hold the weight of a person for several hours without any breakage. As hunting is not an instant fruit you can get. It demands a lot of patience that's why the tree stand must be capable to hold the weight.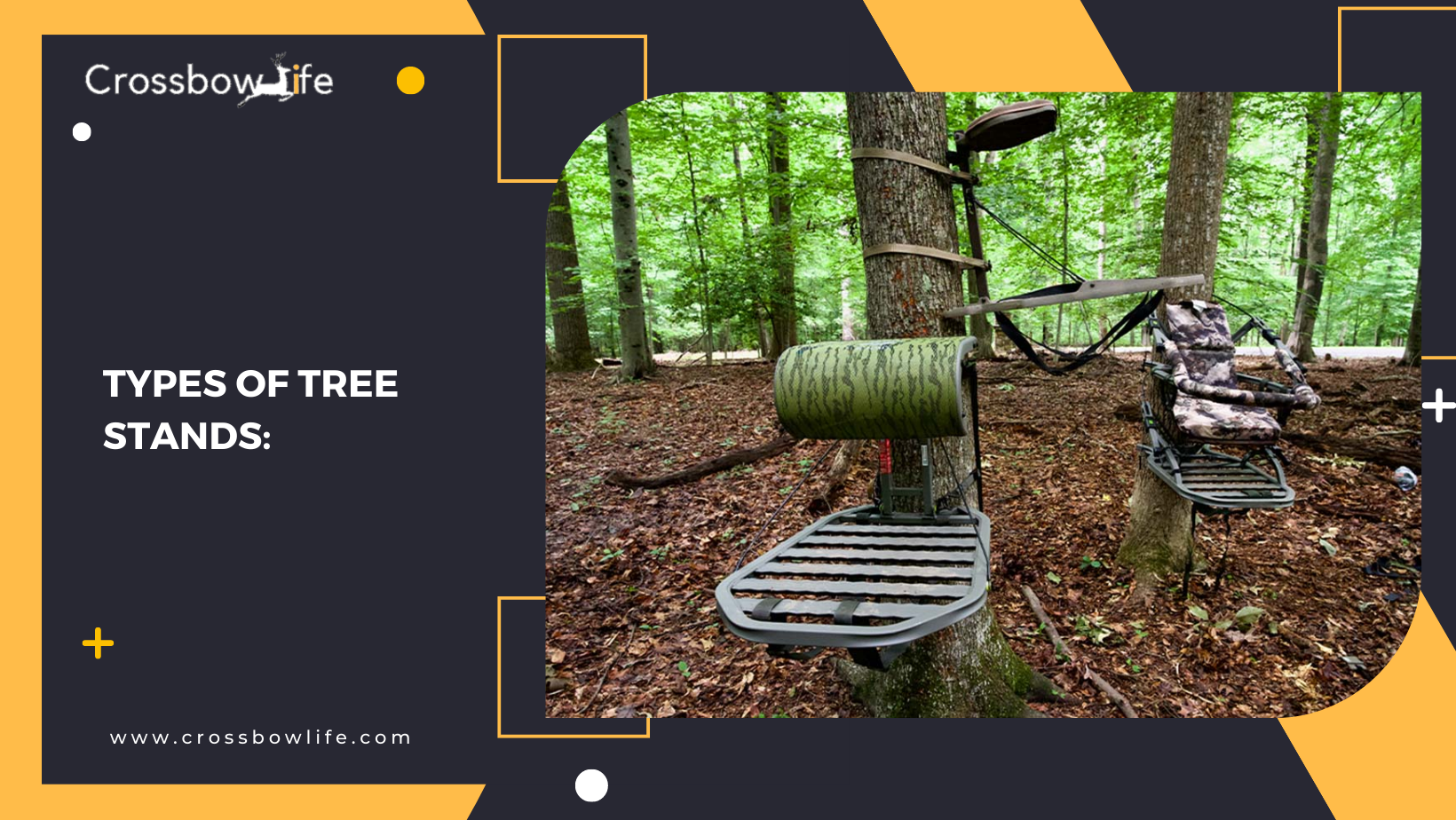 Tree stands are usually portable as hunters have to hold them, and carry them along with hunters. Their designs are so adjustable that it is not a difficult task to attach them with any shape of tree or game trial. Hunters can adjust them without wasting their time. And the key benefit includes that they contain no noise while attaching them to the tree so that preys are unable to detect your presence more it does not damage the environment in any way.
But be aware of homemade, useless stands. Must follow the instructions of the manufacturer if you want to avail of it completely.
There are three kinds of tree stands:
Climber tree stand
Hang-on tree stand
Ladder tree stand
To know the advancement and features of each stand we will study each of them briefly along with their subcategories.
What is a climber tree stands?
The feature that provides you mobility while hunting is available in this tree stand. If you are feeling that it is hard for you to hit the target or the vital part of the target so you can change your position upward or downward. To climb the tree upside, you just need two sticks that will help you in feasible movement.
These tree stands allow the hunter to move up and down while using its special advancements. Such tree stands are constructed in such a way that people can move around from one place to other with a minimum amount of effort. In this way, the hunters become able to hunt from where they found clear sight. You must aware of how you can use it efficiently for a successful hunting experience.
It also includes the gaming category that's why a person with a perfect climb tree stand can elevate this game. It's your choice to avail any weapon in this regard. You can use a crossbow, bowstring, or simply any gun for deer hunting. Different brands have different prices and their specialty also varies accordingly.
Hang-on stands:
Such type of tree stands includes protection of stability, are lighter in weight, are easy to carry and attach, and are comfortable while sitting on them. Whether it is workable for you or not depends upon the sort of hunting you are interested in.
In comparison with the climber, tree stands the hang-on stands are much simpler. It contains a one-piece unit having a fixed seat with a platform. Unlike the climber, tree stands are not mobile. So the hunter cannot vary the shooting place. Such stands are simply attached to the tree with the aid of specific buckles and strips. Some of them also use special T-shaped screws that enhance their stability. They have different ranges in weight including 10 to 35 pounds. As they are lighter in weight so they are easier to carry.
Such stands have pons as well as cons. The major advantage includes stability. That it firmly attaches to the tree so that if you want to leave it for a day or it will never dislocate from its original place.
But it has a flaw in that attaching it is a little bit tricky for the first time. And to move is also somehow difficult.
Types of Hang-on stands:
These include;
Millennium M150 Monster: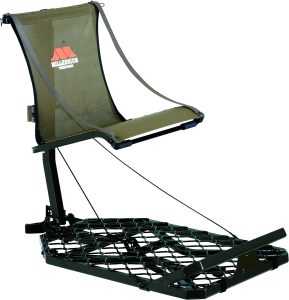 To take an easier, behind-the-tree shot chair rotates in a circle which is an extra feature in this tree stand. Here the seat is made up of polyester fiber that makes the sitting area more comfortable. The Camlock feature enables the chair to lock on a particular position so that it becomes stable while sitting on it. These tree stands are usually made up of powder-coated aluminum or steel making them lighter in weight.
The main additional and amazing attribute of the Millennium 360 revolution hang-on stand is it has a rotational chair feature that allows the difficult one-back shot easily. You can also shoot while standing on it. The silent hunt feature makes it silent and eliminates awkward squeaks. Without the Camlock feature, this stand would have lost its points. The Camlock makes your adventure secure, protective, and stable without any fear of falling. You can also level your seat with the aid of an interlock system. Due to lightweight powdered coated aluminum, this hang-on tree stand is easy to carry along with you while transporting it. Having safe links, a carabiner and a 35-ft long rope make it easier to go upside and downside.
River edge RE56: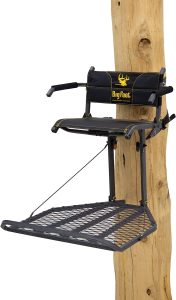 You can get a luxurious adventure in hunting while purchasing this hang-on tree stand. You can get comfort till the end of your hunting while sitting in your favorite particular spot.
This is because it has an extra-large 37" *24" diameter that provides you the facility to take a shot while standing on your seat. The seat can be flipped up so you get a vast area to stand there. Here, the facility of a tear-tuff backrest is also present for your comfort.
Having an amazing lever makes it stable. Moreover, its strap attachments are also too quiet. Unpleased metal-to-metal contact noise is also absent here.
Ladder stand:
Seat, platform, and ladder are all included in this one ladder treestand having the guarantee of protection and stability. although, these treestands are safe and comfy, however, they can be set up with the aid of a minimum of two people. You can say it is a little bit hard to attach.
A ladder stand comforts you with a roomy platform having a sufficient area and is very simple to get into. Though they have no competition in providing a comfort zone to the hunter still they are not mobile like climbing tree stands.
Your hunting location and personal tastes will determine the kind of treestand you should select for hunting. Your local archery shop's expertise can assist you in selecting the ideal stand for your requirements. Additionally, they will assist you in selecting the safety harness, bow holder, and lifeline that are required for treestand equipment. Go into the trees on your upcoming hunting excursion to reap the rewards of the extra elevation.
Big Game Striker XL: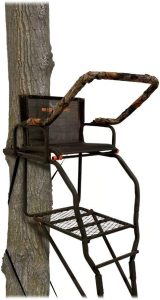 For those hunters who have a keen desire to take advantage of tall trees near wide fields, ponds, or meadows where they could find plenty of deer or other prey animals, then the Big Game Striker XL ladder tree stand will take 100 out of 100 points. With a height of 17.5 feet, this ladder tree stand offers breathtaking vistas and keeps a great vantage position for any hunter.
The Big Game Striker XL also has your back if you don't want to risk your protection, which is the most preferable thing.
First, it is made entirely of extremely robust steel.
The platform of this tree stand is spacious and measures 17″ x 22″. It also includes a full-body fall arrest harness system. To prevent any unintentional slides or falls when shooting a shot or merely altering your position, a harness secures you into a stand. The safety harness must adhere to TMA-implemented industry safety requirements.
With this dependable and very solid steel ladder tree stand and the complete body fall arrest harness system, you may feel comfortable at all times.
Muddy Stronghold: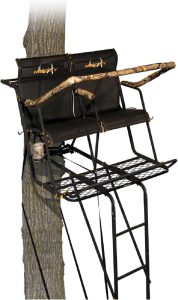 The muddy stand is the best choice if you want a ladder tree stand having a stealthy foot point of 18 inches adding additional support so that you will climb up via using them. Besides providing you with the spacious vintage point it also facilitates you with the comfortable.
Its construction consists of grade steel and weather-resistant fiber in guard powdered form. The seat has the facility of an armrest with a luxurious back. And the shooting rail which is adjustable according to your will. To prevent any awkward or useless noise it has a stealthy silencer that eliminates all possible noise.
It also comforts you with the support bar (adjustable), stabilizers, and heavy-duty ratchet straps.
Conclusion:
Concluding the whole discussion, different tree stands with distinguishing features are available. You must have the sufficient knowledge before buying any tree stand. They boost up your hunting as from an upward direction there are more chances to hit the target. However, it is not compulsory to have a tree stand for hunting. But having it will definitely increase your shooting abilities.
Related Links:
https://en.wikipedia.org/wiki/Tree_stand /By Wikipedia
https://en.wikipedia.org/wiki/Hunting /By Wikipedia
https://en.wikipedia.org/wiki/Hunting_blind /By Wikipedia
https://en.wikipedia.org/wiki/Deer_hunting /By Wikipedia
https://www.wikihow.com/Hang-a-Treestand /By Wikihow
https://www.wikihow.com/Hunt /By Wikihow
https://www.wikihow.com/Bow-Hunt /By Wikihow