Today I want to take a look at ways to store my crossbow. Aside from just putting my crossbow up on a shelf and letting nature run its course on my bow, I wanted to keep it safely in a case like I do with my shotguns. So I took a look at the 2 different types of crossbow cases, The hard shell and the soft shell, to see which would be best or more ideal. Which case is best for travel and which is best for everyday hunting while at home.
Plano Spire Compact Crossbow Cases
The Plano is a hard plastic case that fits most compact limb compound crossbows. It has a pretty cool design and is definitely rugged enough to take some abuse. It has hard core clips with the ability to lock them with a lock for security. The inside has awesome foam pads that provide great protection and a super snug fit. I have personally handled this case, as my buddy has this exact one. He actually added some extra padding for a more secure and snug fit. The extra padding did not take away from some space in the front end of the case which allows him to carry extra lashing. He is also able to place 3 extra quivers inside the case without any issue. It seems like a great option for security and protection for my crossbow; however, I would also like a little more storage capability.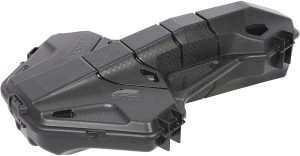 The Plano spire can be stored flat or on its side. The case has little legs on the sides so you stand it up without tipping. The case is fairly simple to carry and the weight doesn't seem to be an issue when I tested it. There doesn't seen to be many downs side with this case. I had read some other s reviews and it appears it fits most but not all crossbows with a scope. My barnet Recruit seems to fit it without issue with the scope on. Some issues that others had were with the latches being busted. Again, the one I tested which my buddy owns doesn't appear to have this issue either. Overall, I think this case is a good buy for the price and the protection it offers. I think I am going to buy this case for when I travel so I feel me secure with having it on a plain etc…
I think this case has many benefits and is rugged enough for me to use for trips without compromise. I would recommend this case for anyone looking to invest in a case particularly for traveling. It again does not provide for a ton of storage but if I am traveling, then I have already packed whatever else I needed otherwise.  If your interested, then you can check it out on Amazon here!
It fits these other crossbows and more:
Barnet DOA, Barnet Ghost 420, Barnet Whitetail hunter, Ghost 360, Barnet Recruit, Lady Raptor, CenterPoint Sniper 370, tenpoint fx4, tenpoint turbo GT, striker 360, and the list goes on!
Allen Gear Fit V Crossbow Case
I took a look at another case, this time a softer case because I want more storage. The Allen Gear Fit V is 25″ wide x 41″ long x 10″ deep with a 12″ hood depth. It has heavy foam padding to protect your crossbow and best of all, It has a bunch of storage compartments. It also has a Padded adjustable backpack straps and rubber carry handle. It comes with 5 storage compartments on the case. The case is pretty BIG! I mean it fits a ton of extras if your like me an try to consolidate as much into one as possible. It easily fit my barnet and was simple enough to carry with the shoulder strap or the rubberized handle. I think I'm gonna pull the trigger on this guy because  it seem to me a good value for what I need. I didn't seem to see any negative reviews and I couldn't see anything wrong with the one I tested. It Seems really durable and a good daily driver. With a good price point I will have a travel case and this one which I intend to use mostly while at home hunting. If you interested in the Allen Gear Fit V, then check it out here on Amazon!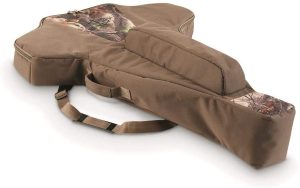 I am excited! I will have both crossbow cases, the Plano for my travel hunting trips and the Allen as my go to daily driver at home. I get both for under $200! I think that is a steal. Let me know what you decide and drop me a line! I will revisit both crossbow cases in a years time and hopefully be able to say they are still going strong.