Crossbow Scope, Pro 5-Step RGB Reticle, QD Rings. In the modern world that we live in today, we cannot deny the fact that we are becoming more and more disconnected from Mother Nature. From the moment we wake up in the morning until we lay ourselves to sleep at night, we depend on the products of the modern technological world to make living easier and more enjoyable.
However, there are still moments when we cannot ignore our need to nurture our relationship with Mother Earth. One of the many techniques in which we can de-stress is through doing various outdoor activities. Many prefer going camping, hiking, or fishing. Alternatively, there are also some people who opt for more challenging tasks such as shooting and hunting.
Starting out a new hobby such as hunting and shooting means you would need to invest in a lot of tools and equipment to make your experience more enjoyable. Yet, the journey to finding trusted brands that sell quality products can sometimes be too challenging.


When it comes to buying scopes and other products for hunting and shooting, trust only the professional-grade products of Leapers, Inc. For more than two decades, this company has been among the market leaders that offer their products to clients in Europe, the United States, and many other countries all over the world.
In this post, we have carefully and thoroughly reviewed one of their world-renown inventions—the UTG 4×32 Scope. Written below are some of its remarkable features.
Wide Angle
This shooting and hunting scope provides a wide-angle that would allow you to do your work more efficiently. The wide field of view will help the shooter in acquiring his target in less time.
Parallax at 50 Yards
Another great feature that this scope offers is its ability to assist the shooter in gaining a reliable depth perception at 50 yards. This means that he will gain the visual capacity to measure the distance of the object from his position.
Broadband Lens Coating
This scope has a lens that boasts multilayer coatings of both organic and inorganic layers that are utilized to deliver the best anti-reflection performance.
Pro Five-Step Reticle
This type of technology is specially developed to improve the use of crossbows. It is consists of vertical and five horizontal lines that have a thin crosshair at the center. These lines are used to aim at targets that are 10, 20, 30, 40, and 50 yards away.
RGB Side Wheel Illumination
The Leapers UTG 4×32 Crossbow Scope is designed with the wheel illumination knob located on its side. In that way, you can adjust the RGB lighting without the need to make too much movement or exert unnecessary effort.
Zero-Reset/Locking with Elevation and Wind Adjustment Knobs
This scope has user-friendly elevation and wind adjustment knobs to allow for easy operation. These knobs automatically lock in order to prevent any accidental movements and lose zero.
Flip Open Lens Caps
Even during extreme conditions, you can rest assured that your scope is protected. It comes equipped with an airtight lens cap that opens by just a simple flip.
UTG RQ2W1104 QD Rings
This scope comes with a set of QD rings made with an aircraft-grade aluminum alloy. It has an anodized matte black finish for added protection and class. It can be adjusted to fit on any size of Pica tinny Rail. The tight tolerance control combined with the repeatable positive locking allows for the best re-zero performance.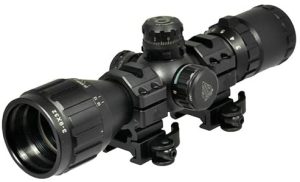 Highlights
Excellent optics and illumination
Offers a nice scope
Very easy to operate
Hassle-free mounting and siting
Can use green or red reticles
Does not fog up easily
Setbacks
Can be a little too bulky for some crossbows
Not compatible with some crossbows
Summary of the Features
The UTG 4×32 Scope is a remarkable product manufactured by Leapers. For years, this company has been one of the most trusted brands when it comes to shooting and hunting gear. This scope is carefully designed to provide shooters and hunters with the best and most productive experience.
Overall Dimensions: 9.9 by 3.6 by 2.9 inches
Weight: 1.59 pounds
Design: This one-inch crossbow and air gun scope come equipped with a high-quality lens that offers a wide-angle with parallax at 50 yards. The lens is protected by several layers of coatings to provide optimal anti-reflection performance.
Construction: The wheel illumination knob is intelligently located at the side of the scope so as to allow for hassle-free operation. For crossbow users, the pro-five-step reticle is proven to be of great help in picturing targets at 10 to 50 yards away.
Other Features: This scope is designed with elevation and wind adjustment knobs that automatically lock in order to attain a fixed zero at all times. It also comes equipped with an airtight lens cap to protect the scope even in extreme weather. Lastly, it boasts QD rings with tight tolerance control and repeatable positive locking.
Leapers UTG 4×32 Scope vs. Other Similar Products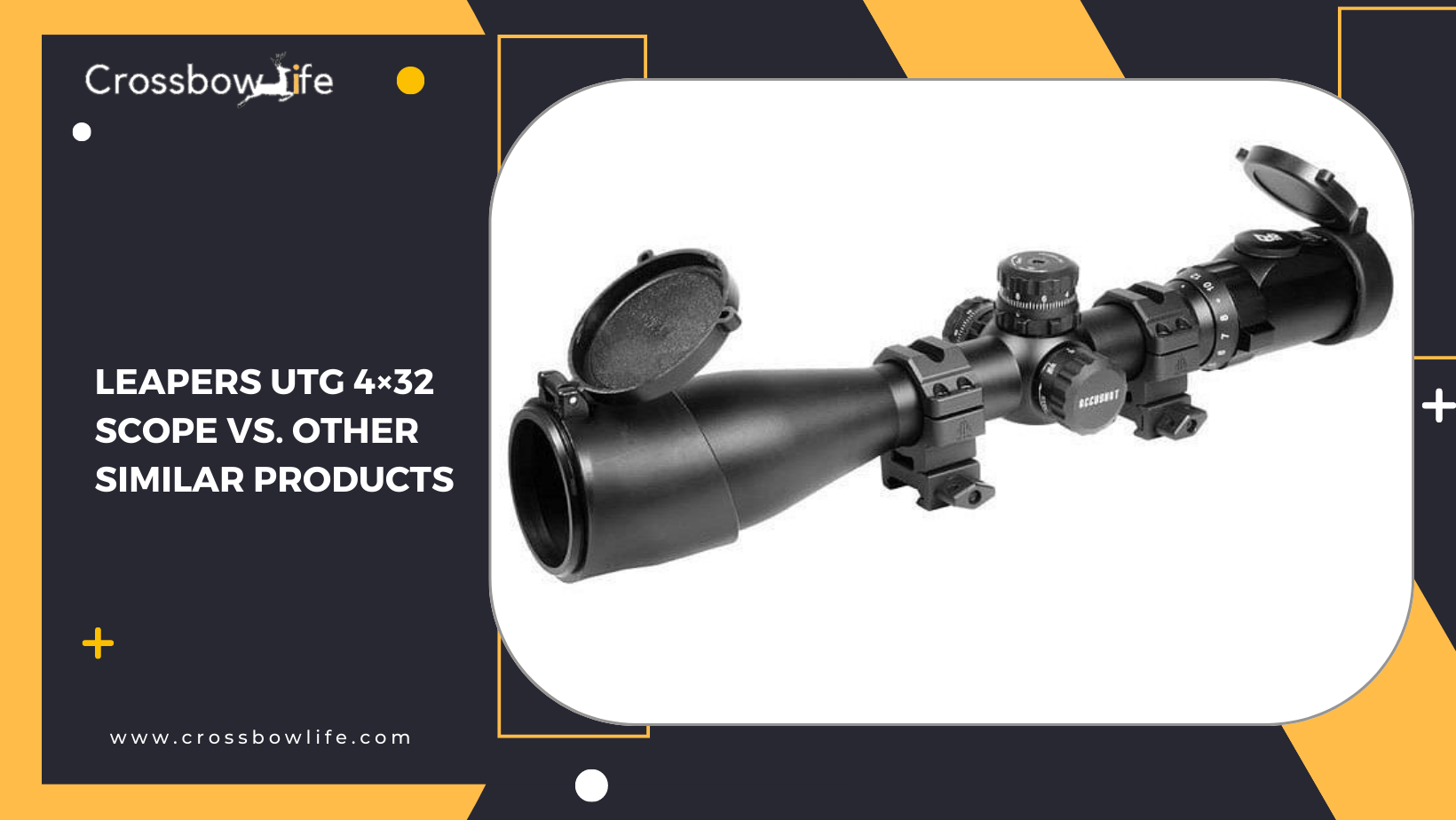 Looking at the key features, we can say that the Lebo Tactical Optics 4×32 AOME AR15 Rifle Scope has a very similar set of functionalities to that of the Leapers UTG 4×32 scope. The Lebo scope is a one-piece tube that is made of durable and anodized material. This easy-to-clean scope is equipped with a rear focal plane reticle.
It delivers the best optical clarity in a very wide field of view. Additionally, it also boasts five levels of illumination. The lens offers accurate, comfortable, and high-definition images.
Similar to the Leapers UTG 4×32, this scope also has a zero-reset combined with both wind and elevation adjustment objectives. This scope is also made to be waterproof, fog proof, and shockproof.
The Verdict
Looking at all the features offered by both the Lebo Tactical Optics 4×32 AOME AR15 and the Leapers UTG 4×32, we have concluded that the latter offers more bang for the buck. This is because this scope is specially designed to be used with crossbows and airsoft guns.
Weighing only about 1.60 pounds, you can rest assured that you can utilize this tool to make your hunting or shooting experience more enjoyable—even when it takes a couple of hours just to rot. Its size is perfect for use in both crossbows and airsoft guns.
Related Links:
https://en.wikipedia.org/wiki/Crossbow /By Wikipedia
https://en.wikipedia.org/wiki/History_of_crossbows /By Wikipedia
https://en.wikipedia.org/wiki/Bullet-shooting_crossbow /By Wikipedia
https://en.wikipedia.org/wiki/Repeating_crossbow /By Wikihow
https://www.wikihow.com/Make-a-Crossbow /By Wikihow
https://www.wikihow.com/Make-a-Small-Crossbow-out-of-Household-Items /By Wikihow
https://www.wikihow.com/Use-a-Modern-Crossbow /By Wikihow