Support us! Scott PAC may earn a small commission from affiliate links in this article.
Barnett Recruit Compound Crossbow Package. This is a small compact bow at 300FPS and 130lbs of draw weight. It has 80 foot-pounds of energy and has no problem taking down most games.
This crossbow is ideal for smaller hunters as it is very portable yet powerful. Powerful enough to take down a bear, moose, and larger game. I like this crossbow for its simplicity and ease of use. I had my younger nephew try this and he had no issue. It's great for him to be able to get out into the field and hunt with us without being bogged down.


The accuracy has been tested and appears from 50 yards, It has groupings around 3", and 75 yards only gav 5" groupings. I still would consider this great for me I look to hit my target in the 30-50 yard range anyway. So a little more about this bow…it
Allows for the integration of a crank cocking device for those of us who prefer that.
Finger reminders pass-through foregrip cause we don't want to lose our fingers.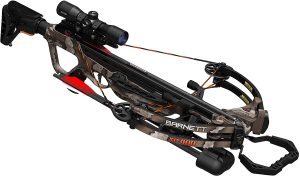 Perfect for women and small-framed hunters as I mentioned above. It has an Adjustable buttstock Complete with Quiver, 3 – 20″ Arrows. The scope is equipped with a Premium Red Dot Sight and Rope Cocking Device.
Climate-controlled storage and waxing the string every ten shots is highly recommended. When loading crossbow always makes sure odd colored arrow fletching is down. So if you are interested in this crossbow package, which I would recommend for smaller-framed hunters or someone who just wants a go-to bow, then check it out on Amazon here.
with over 329 customer reviews and 71% are 5 stars, you can't go wrong.
Click Here To View on Amazon
Crossbowlife Rating: 7/10
Where Do You Shoot A Dear with A Crossbow
Where Do You Shoot A Dear with A Crossbow So you are new to crossbow hunting and you're wondering what your need to